Pete the Cat: Three Bite Rule
by James Dean, Kimberly Dean, Anne Lamb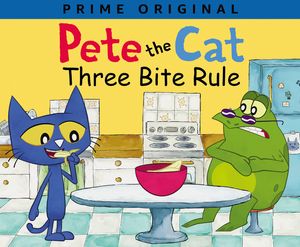 Based on the Amazon Prime Video original series that was inspired by the classic bestselling picture book series!
Pete the Cat is whipping up a delicious dish for his class's potluck. Pete can't wait to share his banana casserole with his classmates. It's his favorite lunch!
But it turns out that his friend Grumpy Toad hates bananas. How can he hate bananas if he's never tried one before? Pete shows Grumpy trying something new can be supercool and groovy with the "Three Bite Rule."
This brand-new Pete the Cat picture book retells groovy moments from the show and includes a coloring poster!
Publisher:
Imprint: HarperFestival
Format: Paperback
On Sale: 11/06/2018
ISBN: 9780062872609
ISBN10: 0062872605
ISBN13: 9780062872609
Trimsize: 11.000in x 9.000in x 0.000in