Pete the Cat: Secret Agent
by James Dean, illustrated by James Dean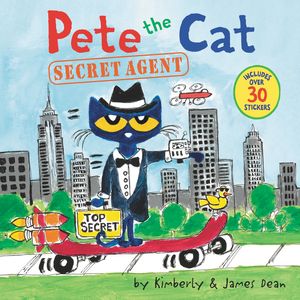 Meet Secret Agent Meow, also known as Pete the Cat, who is on a top secret mission in this fun 8x8 storybook with over 30 stickers!

After some unusual activity, Pete the Cat must go undercover as Secret Agent Meow in Pete the Cat: Secret Agent by New York Times bestselling creators Kimberly and James Dean.
With his handy spy watch, secret catcher, and his meow-mobile, Agent Meow is ready to crack the case! What could the big surprise be?
Imprint: HarperCollins
Format: Board book
On Sale: 06/23/2020
ISBN: 9780062868428
ISBN10: 006286842X
ISBN13: 9780062868428
Trimsize: Trim size data not found for this book.