Pete the Cat: Five Little Ducks
by James Dean, Kimberly Dean, illustrated by James Dean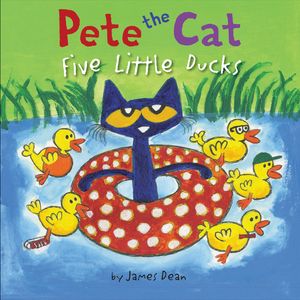 #1 New York Times bestseller James Dean turns it up in Pete the Cat's cool adaptation of the classic children's song "Five Little Ducks."
Five little ducks went out to play, with one cool cat leading the way. Sing along with Pete the Cat in his groovy adaptation. Fans of Pete the cat will love rocking out to this classic tune with a groovy twist.
Don't miss Pete's other singalong adventures, including Pete the Cat: Five Little Bunnies, Pete the Cat: Five Little Pumpkins, Pete the Cat: The Wheels on the Bus, Pete the Cat: Twinkle, Twinkle, Little Star, and more!
Publisher:
Imprint: HarperCollins
Format: eBook
On Sale: 01/24/2017
ISBN: 9780062404497
ISBN10: 0062404490
ISBN13: 9780062404497
Trimsize: Trim size data not found for this book.