Pete the Cat and the Cool Cat Boogie
by James Dean, Kimberly Dean, illustrated by James Dean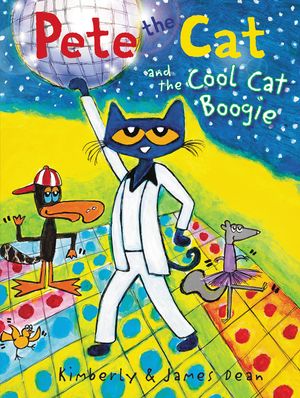 Put on your dancing shoes—Pete is ready to boogie!
Pete is learning a new dance—the Cool Cat Boogie! When he hears a groovy beat, he's full of happy in his feet. But when Grumpy Toad tells him, "Pete, you dance all wrong!" Pete is determined to become a better dancer.
With the help of his friends and some wise words from Owl, Pete learns that he's his grooviest when he's being himself. Includes step-by-step dance moves so readers can dance along with Pete!
Join Pete the Cat in this groovy story from New York Times bestselling author-illustrator team James and Kimberly Dean! 

Don't miss Pete's other adventures, including Pete the Cat: I Love My White Shoes, Pete the Cat: Rocking in My School Shoes, Pete the Cat and His Four Groovy Buttons, Pete the Cat Saves Christmas, Pete the Cat and His Magic Sunglasses, Pete the Cat and the Bedtime Blues, Pete the Cat and the New Guy, Pete the Cat and the Missing Cupcakes, Pete the Cat and the Perfect Pizza Party, and Pete the Cat: Crayons Rock!

Related Activities
Learn the Cool Cat Boogie!
How to Host a Totally Groovy Event
Create Your Dance Invitation
Rock Out and Color with Pete the Cat!
Pete the Cat's Groovy Word Search
Pete's Marvelous Maze
Pete the Cat's Word Scramble

Imprint: HarperCollins
Format: Hardcover
On Sale: 05/09/2017
ISBN: 9780062404343
ISBN10: 0062404342
ISBN13: 9780062404343
Trimsize: Trim size data not found for this book.