Pete the Cat's Trip to the Supermarket
by James Dean, Kimberly Dean, illustrated by James Dean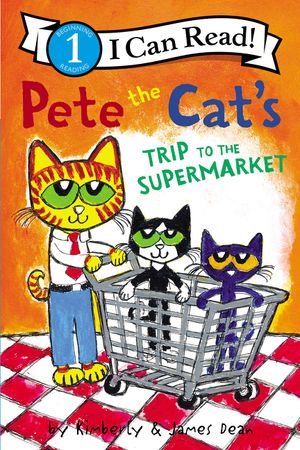 Pete the Cat helps out at the supermarket in this Level 1 I Can Read tale from New York Times bestselling creators Kimberly and James Dean
Along with his dad and brother, Pete the Cat heads off to the supermarket. But what happens when Dad loses the grocery list before they even get there? It's up to Pete and Bob to help remind Dad what was on their list!
Pete the Cat's Trip to the Supermarket is a Level I Can Read book, complete with original illustrations from the creators of Pete the Cat, Kimberly and James Dean, and is perfect for children learning to sound out words and sentences.
Imprint: HarperCollins
Format: Hardcover
On Sale: 07/09/2019
ISBN: 9780062675385
ISBN10: 0062675389
ISBN13: 9780062675385
Trimsize: Trim size data not found for this book.