Pete the Cat: Big Easter Adventure
by James Dean, Kimberly Dean, Kimberly Dean, illustrated by James Dean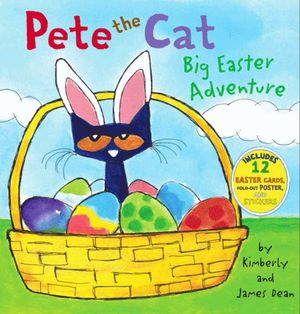 Join Pete in New York Times bestselling author James Dean's Pete the Cat picture book series as Pete has a groovy Easter adventure. In this paper-over-board picture book, complete with poster, punch-out cards, and stickers, Pete helps out the Easter Bunny! Fans of Pete the Cat: I Love My White Shoes, Pete the Cat and His Four Groovy Buttons, Pete the Cat: Rocking in My School Shoes, and Pete the Cat Saves Christmas will love this Easter-themed Pete storybook.
Imprint: HarperFestival
Format: Hardcover
On Sale: 01/28/2014
ISBN: 9780062198679
ISBN10: 006219867X
ISBN13: 9780062198679
Trimsize: Trim size data not found for this book.