Pete the Cat and His Four Groovy Buttons
by Eric Litwin, illustrated by James Dean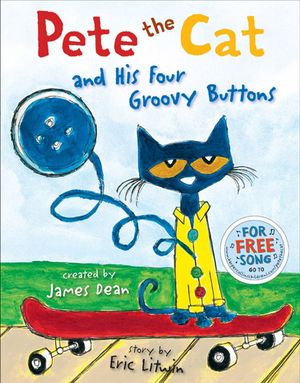 An award-winning and bestselling Pete the Cat book!
Count down with Pete in this rocking story that makes counting fun! Pete the Cat is wearing his favorite shirt—the one with the four totally groovy buttons.
But when one falls off, does Pete cry? Goodness, no! He just keeps on singing his song—after all, what could be groovier than three groovy buttons? The winner of the Theodor Seuss Geisel Honor Award.
The fun never stops—download the free groovin' song!
Publisher:
Imprint: HarperCollins
Format: eBook
On Sale: 05/01/2012
ISBN: 9780062110619
ISBN10: 0062110616
ISBN13: 9780062110619
Trimsize: Trim size data not found for this book.